I have a Teensy 3.1 and I am wanting to receive data from a reflectance sensor, specifically this one from pololu: https://www.pololu.com/product/2459
!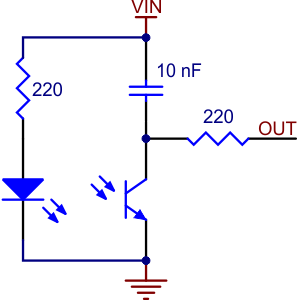 This is the circuit of the reflectance sensor from pololu's website. The Vin is meant to be 5V according to the datasheet.
To operate it, you set the OUT pin to high, and then set it to low and see how long it takes for it to discharge.
I have a 5V input, but my Teensy 3.1 will only output 3.3V. So, this means when I set the OUT pin to high, there will actually be a 1.7V difference between VIN and OUT. Will this cause current to flow into the OUT pin? (1.7V / 220ohms = ~7mA) Will that cause any issues?
I understand the purpose of setting OUT to high is to discharge the capacitor and that will still happen even with 3.3V applied to OUT.