I have a question regarding switching batteries from series to parallel to charge them.
I have 36 modules of 1Sx11P Li-ion batteries connected in series. During normal operation they drive a car with a high efficiency motor, and are recharged via solar panels and two max power point trackers.
However, when the car is not running off of solar power or is parked in the garage I would like a way to charge the vehicle with a battery charger or power supply with a cable that could plug into the car. I have been reading some descriptions about people doing similar things for beefy RC airplane batteries by connecting them in parallel and charging many more than the battery charger could originally charge. Here is an image from this website:http://www.rchelicopterfun.com/parallel-lipo-charging.html
Or other configurations like on this picture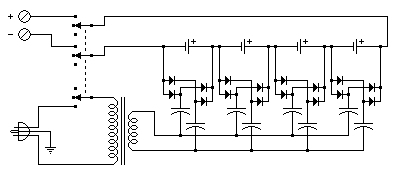 The advantages of parallel charging would be very big for me as it would regulate a lot of the cells voltages without the need for external balancing circuitry, though I do have that available when the car is in serial hookup.
The batteries aren't all that accessible in the car either, so plugging in two different harnesses isn't really option for this idea.
What I want to know is, is their a way I can implement a circuit that can flip back and forth between series and parallel for the batteries that could handle the high voltage and large currents I would be dealing with? Do you have any recommendations on how many batteries I should look into having in parallel while charging?
I would appreciate some insight as this is a little out of my typical realm of electronics.