Single op-amps often come in 8-pin DIP packages, with 5 of those pins being standardized (or maybe it's just de-facto) like in the ones below.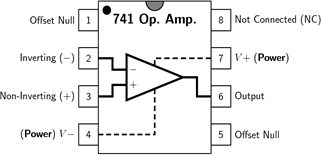 (source: linear.com)
Older op-amps such as the LM741 (first image) have a very bad sense of what is 0 volts, so they require offset null pins to manually adjust them. Some newer op-amps such as the TL071 are much more accurate, but still make use of extra pins by having this feature, while their dual and quad siblings do not have this feature. Some modern single op-amps have three unused pins, and forego the offset null completely.
So why don't many modern single op-amps come in 6-pin DIP packages? They would still conform to the standardized layout, and fit in 8-pin DIP sockets. But they would take up less space in circuits designed for them.
edit: For examples such as TL071, I can that they would put the offset null on it despite it's absence in it's dual and quad siblings so that there's an option for those that do want to adjust it. But even then, many of these are available in different packages, so why not 6-DIP? That still doesn't explain it for the single op-amps that don't have offset null.