Came across a few circuit components and I thought I'd have a little fun. I don't understand what's happening though. I implemented this circuit.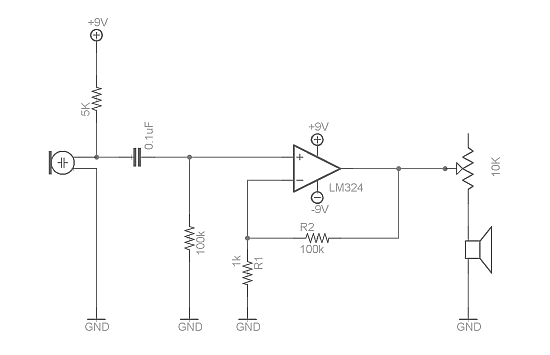 The only differences were: I didn't have a .1uF cap, so I used the smallest one I had which is 1uF. For the input I used the adafruit max4466 mic amp. For the output I didn't have the 10k pot so I just didnt put anything. And the speaker was a 6 ohm speaker I got out of an ipod speaker I found at the dump!
Problems/Questions:
The speaker transmits the sound from the mic. If I put a song on my phone very quiet and press it up to the mic amp microphone the speaker is very loud. If I move a centimeter away, the sound isn't really amplified.
Voltage from ground to the output pin of the op amp is 0.
Voltage across (+) (-) of speaker is zero.