I have an N-channel MOSFET circuit like this, except there is a more detailed (still resistive) load circuit in place of the LED and R1.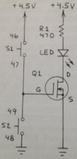 I attach my oscilloscope probe to gate (no other connections to gate at that point), and ground to ground. I can see drain-side circuit voltage fluctuations (measured separately) on the scope (low current, low voltage).
I thought the gate was pretty well insulated from the drain side; I don't know but based on my currently limited knowledge of MOSFETs I am wondering if the MOSFET is fried.